Boating
My family grew up literally minutes from Lake Erie and I've been on friends' motor boats (usually 22-28 footers) during summer vacations. I've done some fishing, water skiing, and tubing...that was pretty much the extent of fresh water boating adventures.
As far as salt water, I've done some snorkeling in Jamaica, some Jet Skiing in the keys, and some recreational boating in the Gulf of Mexico. Again, not much time behind the wheel, but I enjoy it nonetheless.
I enjoyed being on the water, but the rest of my family either got sea sick or just didn't find the enjoyment in it. To me it is relaxing to just anchor up and watch the sea life and enjoy the peace and quiet. It's a way for me to recharge. But I guess the rest of the family's aversion was the real reason we didn't get a boat and sail the high seas.
In my late 20's, our friend Jason introduced us to the world of sailing on the Sandusky bay. We were window shopping, but it kinda opened my eyes to sail boats. It's an entirely different world...no engine noise...just the wind at your back! It always sounded fun to just pack up some things and sail the Carribean for a month.
Fast-forward another 20 years and we took a family vacation back down to the Cape Coral, FL area and I decided to rent a 24 foot deck boat for a couple days. I had plans of doing some fishing in the Gulf, some water skiing, maybe anchor the boat on a sand bar and swim with the dolphins.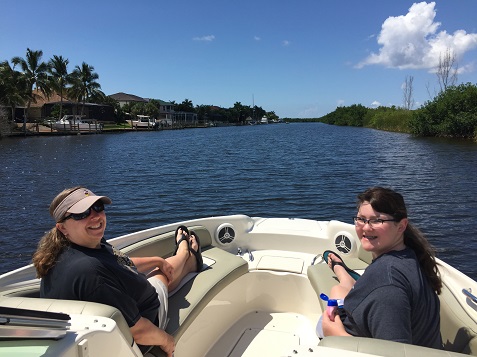 I downloaded the area charts and studied the ICW (Inter-Coastal Waterway) markings. Wow, what a lot of information to process! After doing more research, I only had two real concerns...Getting Lost, or Getting the Boat Stuck. I was surprised to see areas on the depth chart of a foot or less. The worry of getting lost subsided thanks to GPS plotting and tracking. I just had to not get "distracted in the cockpit" by gadgets.
Well the entire trip worked out just fine, didn't get to do all the things I wanted to, but I learned navigating the canals, proper channel lock and docking procedures, and navigating the complex ICW. That was kinda fun for me. It brought back dead-reckoning and charting procedures I used to use while flying. Sydney kept trying to start a mutiny and steal the steering wheel from Amy or myself. Normally, I wouldn't mind, but there was a heavy presence of the Coast Guard, Sheriff and Fish and Game where we were. I didn't want to take the chance of getting busted. I promised her next year we'd grab some Jet Ski's and she could drive those.