Camping
Our family loves camping. In fact, my wife and I went camping as part of our honeymoon. Nothing beats the smell of fresh air in the morning and a nice campfire in the evening.
Personally, I like roughing it (minimal supplies, tent, sleeping bag, etc), but as I get older, it's kind of nice to be able to role out of bed in our camper, rather than wake up on top of a rock digging into your spine. Having a camper makes camping even more fun. The ability to have a shower in the morning is refreshing and heat on those late October camping trips makes it all worth it. Our camper has just about anything you could need...full size adult bed, full kitchen/stove/microwave/dinnette, full bathroom/shower, and two bunk beds. We put a bike rack on the back and we're good to go.
It also helps to keep pretty much anything you need stowed away in our camper, get home from work on a Friday and be able to camp the entire weekend without much hassle. Here's our camper, a 25 foot Fleetwood Caravan SB, out at Maumee Bay State Park (a local favorite of ours).
I also get to enjoy relaxing and I'm planning on doing a little more traveling to new camp grounds in the years to come. That's the fun part, exploring new places to go and have fun. I'm a "Happy Camper".
Check Lists - General and Specific to our 2004 Fleetwood Caravan EXT M-25-SB Trailer
Hey, I'm getting older, I can't remember everything. Here's some check lists specific to our setup that's here mainly for my purposes, but maybe they'll be of some use to you. Note that this information has been extracted from our user's manual and our recommended camping needs. You need to check your camper for any specifics as I've omitted things that don't apply.
Camper Information
Make: Fleetwood/Coleman
Model: Caravan EXT Series M-25-SB
Length: 26 feet long x 11 feet 3 inches wide
Axles: 2 - Also includes Bike Rack Assembly and Spare Tire
Slides: 2 - Master Bedroom Slide Forward and Kitchen Dinette Slide Out
Suggested List Price: $21,338.00
Included Options and Features:

Furnace - 21,000 BTU Central Ducted
Air Conditioning - 13,500 BTU Central Ducted
Water Heater - 6 Gallon Gas/Electric with Exterior DSI (Direct Spark Ignition)
Range - 3-Burner Range with External Vent Hood and Microwave
Stereo System - AM/FM/CD Overhead Speaker System
External 2-Burner Gas Grill Cook Top
External Shower System
10-12 Foot Awning System
Upgraded Cabinetry Throughout
Scissor Stabilizer Jacks
12-Volt Auxillary Battery System
Carbon Monoxide, Propane and Smoke Alarm Warning System
Cable and Over the Air Antenna and Hookups
Check Lists
Update: In 2014 we took the old Caravan that worked well for us and upgraded to a brand new 25 foot Keystone Bullet Ultra Light. We were limited to what the 2009 Toyota Tacoma could haul and knew we would be towing it to several of our favorite campsites.

The family dog (Charlie) making herself comfortable while Amy reads.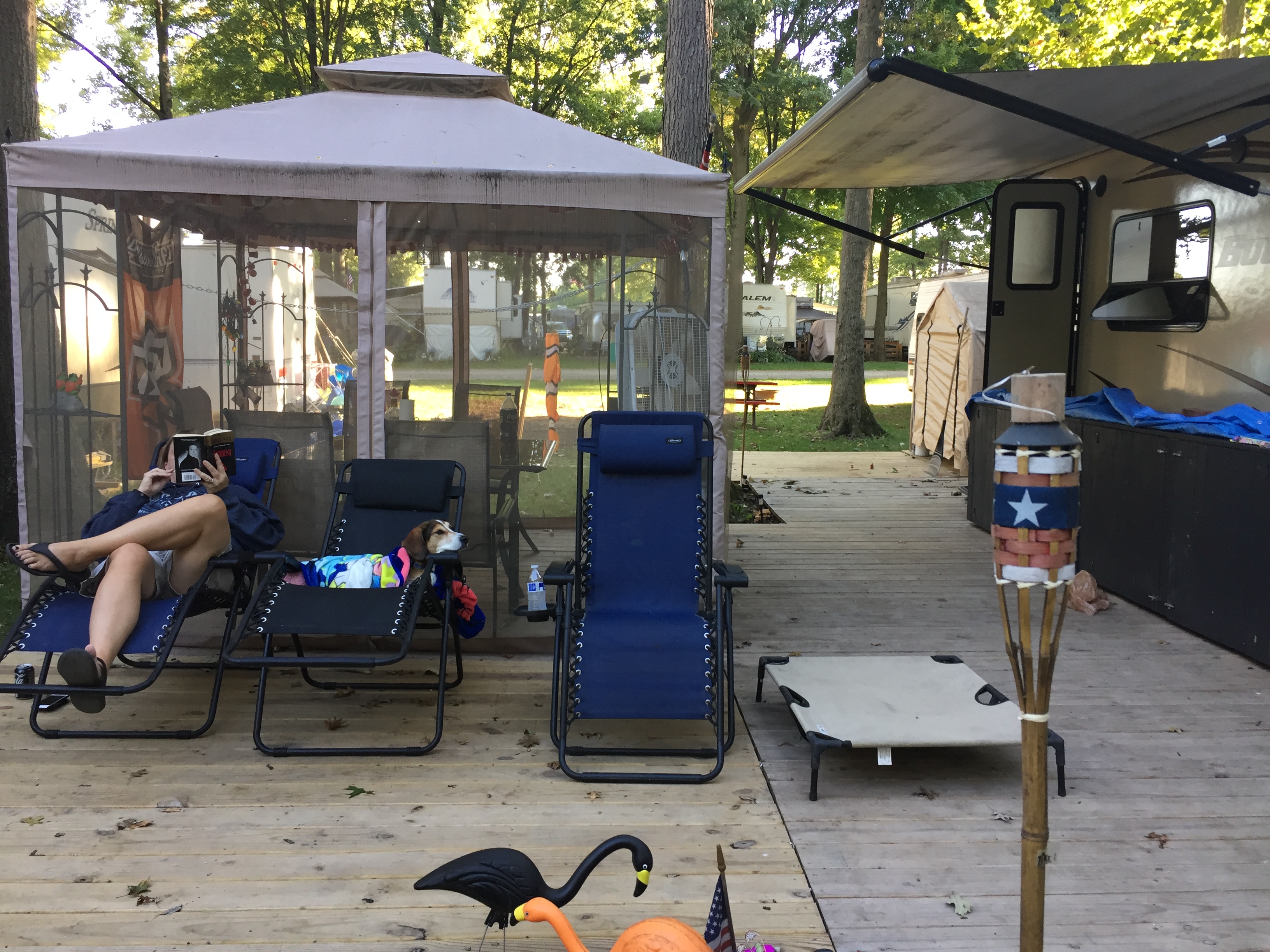 Charlie waiting for 'Ribeyes and Fries' to be done.
Update: In 2018, while at a permanant campsite over the winter, a tree branch went through the top of the camper roof and must have been there until I found it in late March of 2018. Thank God for insurance, as the estimated costs for repairs exceeded $10,000. I can't imagine the following holes cost that much but the way the roofs are designed now-a-days it required extensive repair to fully waterproof and make it structurally sound again. What a mess!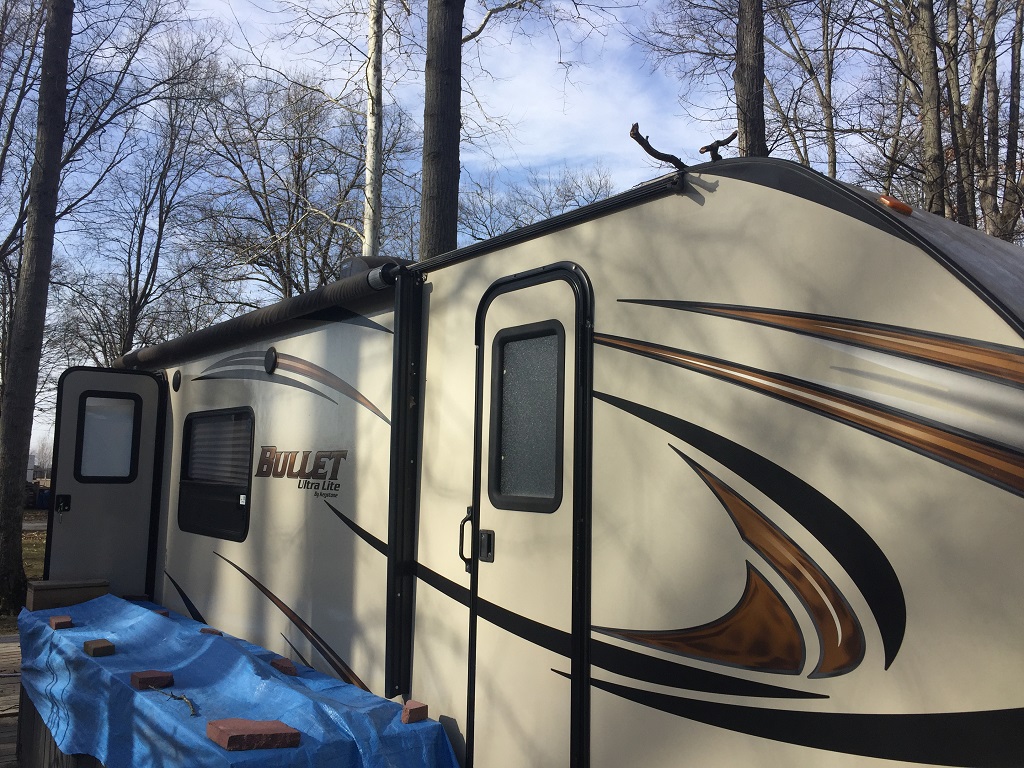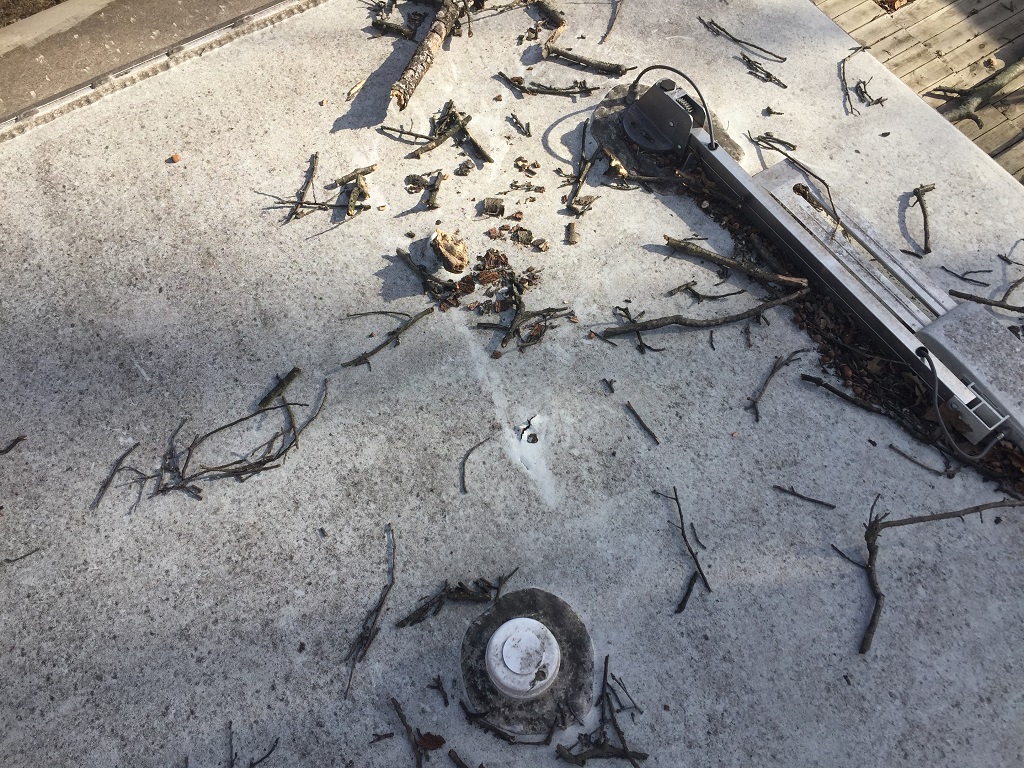 Notice the branch in the roof of the trailer? That goes another 6 inches in or so. There was no interior damage, so we have no idea where the rain and snow was going over the winter months.
In late 2017 we pre-paid for a permanent site in 2018. After the damage we figured it's best to just continue our camping adventures in a more larger camper. So we upgraded again after the extesive 2-month insurance process. Here's photos of our 2018 Heartland Pioneer PI355 5th Wheel at our permanent campsite. All 2000 square feet (as seen from outer-space via Google Earth). Notice Amy's car? Looks like she might have had the hatchback lid up as the Google moderators actually 'scribbled' her (or more likely the license plate) out of the image. (It's probably automatically flagged via automated image scanning, then sent to moderators to 'scribble' out.) You'd be amazed at the image resolution from orbit. We knew back in the 1980's that you could read the headline of a newspaper from orbit...30+ years later, we can probably see MUCH better from outer space.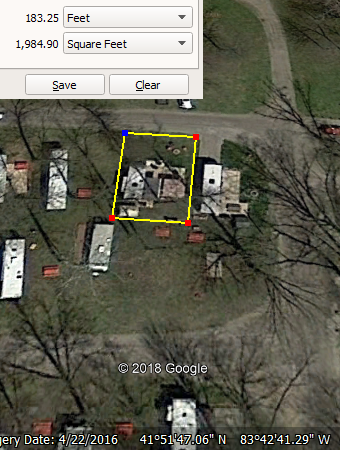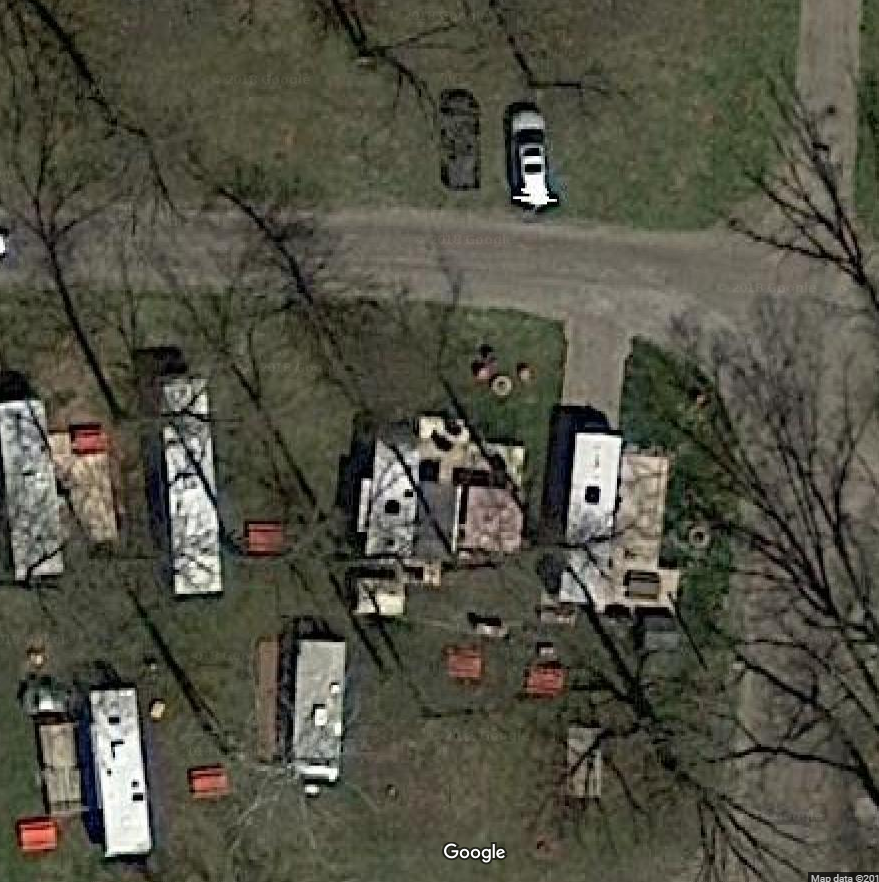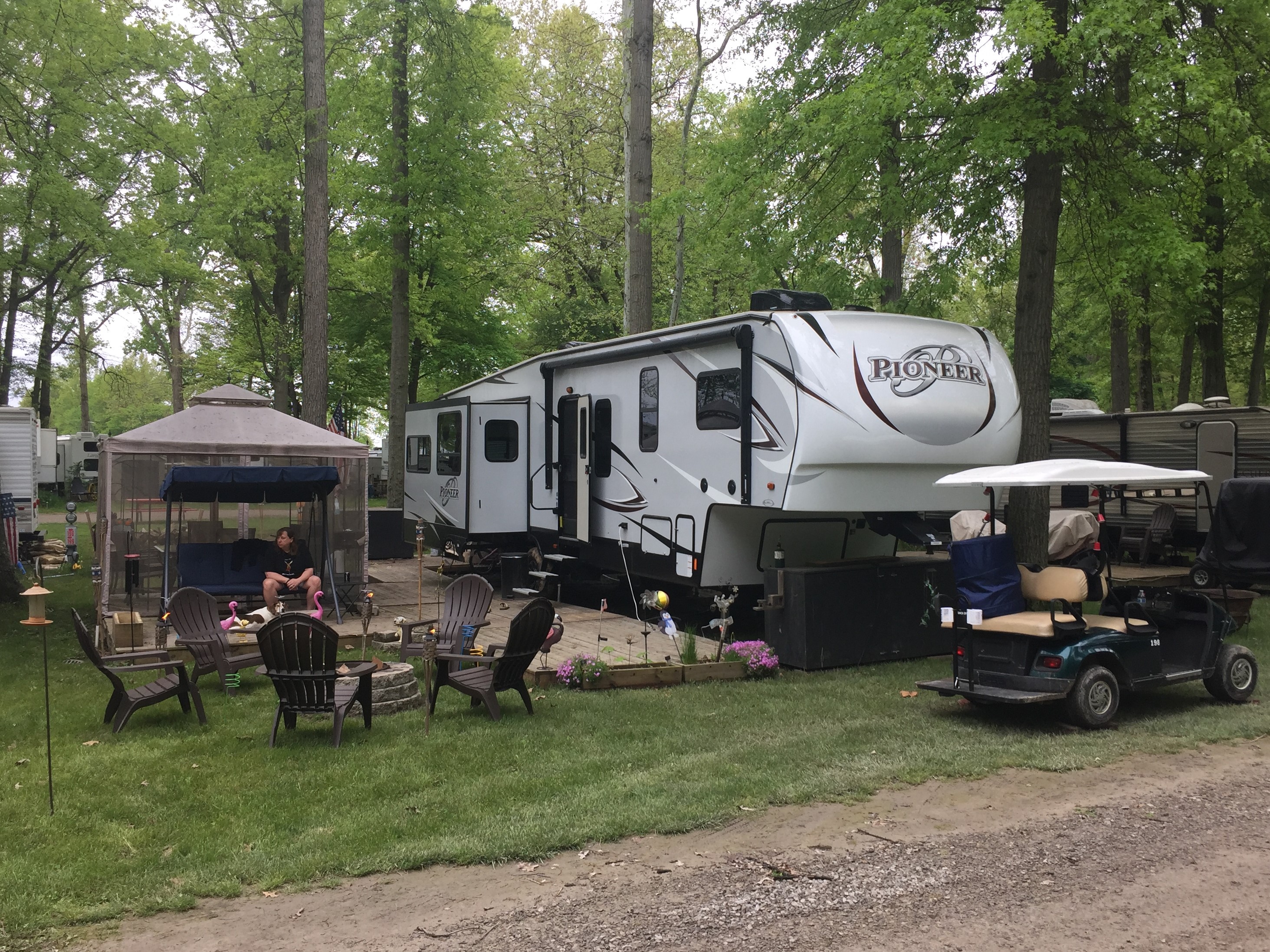 Here's a look at the inside before we moved it