Golf
Who doesn't love being outdoors, getting a little sun, having a beer and playing.....Golf! Here's my story....
My Dad wasn't a very active golfer, neither was my Mom (even though she comes from a family that could have produced quite a number of professional golfers)...but a family friend got me into the sport. Being the North Royalton High School Junior Varsity Golf Coach, he allowed me to practice with the Junior Varsity team as a 8th grader. I can remember teeing off with a driver on a 150 yard Par 3 when I first started, but with time, patience and practice, I was able to grow my game and get more power behind my shots, now I have to back off that shot with a wedge.
My real problem with the game is speed. I've got a back-swing that's about as fast as most people's regular swing. I also prefer to walk the course rather than ride in a golf cart. I think walking the course helps slow your game down and also gives you better judgement and time to think through the next shot. This game is all about accuracy, strategy and consistency.
Eventually, I worked my way onto the JV team, then the Varsity team. I really had some fun practicing, playing in matches, and even the occasional tournament. At our home course, Hinckley Hills in Hinckley, Ohio you'd even see some of the Cleveland Indians or Cleveland Browns at an occasional outing or two. That was always neat.
Once we even had a match against our high school rival Strongsville's home course. Before each match it was customary to practice on the putting green, then find the opponent you were to play against. In this instance, I asked for my opponent's last name and begin writing it down (it was a long name and he just kept spelling it)....it never clicked in my head until after the match that I'd just played a round of gold with Marty Schottenheimer's kid, who's Dad at the time was the Cleveland Brown's head coach. Boy did I feel stupid. (I think I lost that match also.)
Overall, I'm probably a scratch golfer (par or better), when I try. There's sometimes I'll get out there and get a little cocky and let that driver fly and don't remember the cardinal rule..."Drive for show, putt for dough." If I had to compare myself to a professional golfer, I look like Nick Faldo, but play like John Daly (I can drive the ball, but then am left thinking what club should I use next from 50 yards off the green, or worse - a ravine in the woods!)
I never went on to try out for my college alma matter's team...I wish I would have...I probably wouldn't have made the team anyway, but you never know. I think at that time I was burnt out in playing competitively in matches. I still play in a few scrambles for fun (mostly for charity or work functions). But my wife and daughter are starting the game, so it's fun to bring them along for a nice relaxing game on Sundays when we get the chance.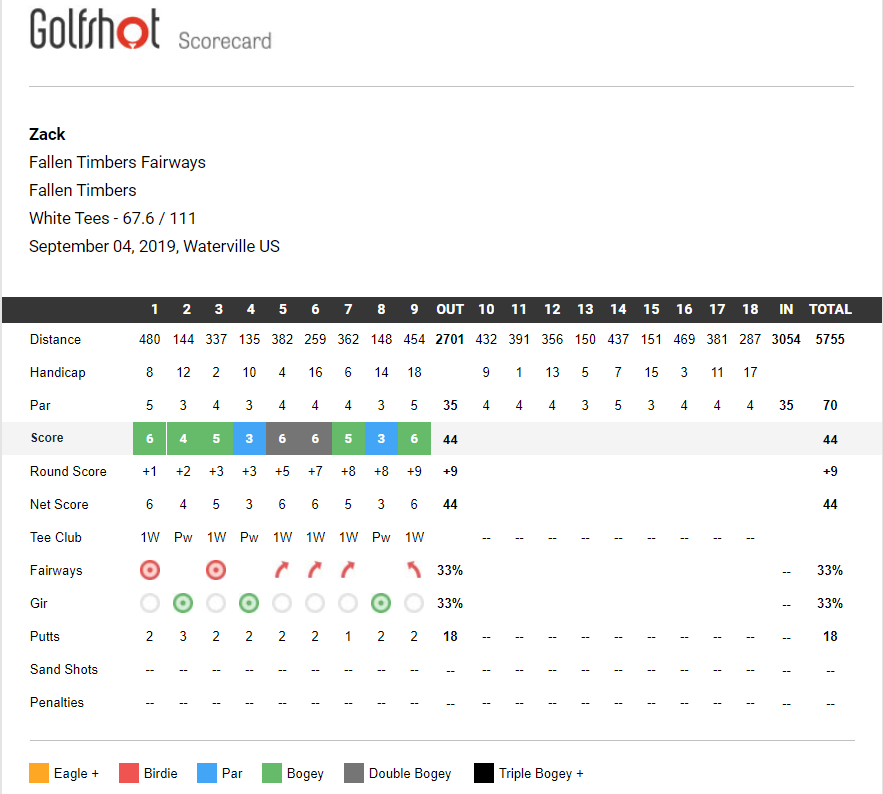 I'm getting older, so finding that I just have to relax and tell myself it's ok to take an 8 or 9-iron instead of that pitching wedge and blast it in there. It makes the game a little more fun too. I'd say I'm a scratch golfer, but bogey golf is ok with me too. At the end of the round, I know there was always a good 9 shots or so that were just stupid and getting rid of those is my goal for the next round. So it keeps the game fresh for me - after all, being perfect wouldn't be much fun.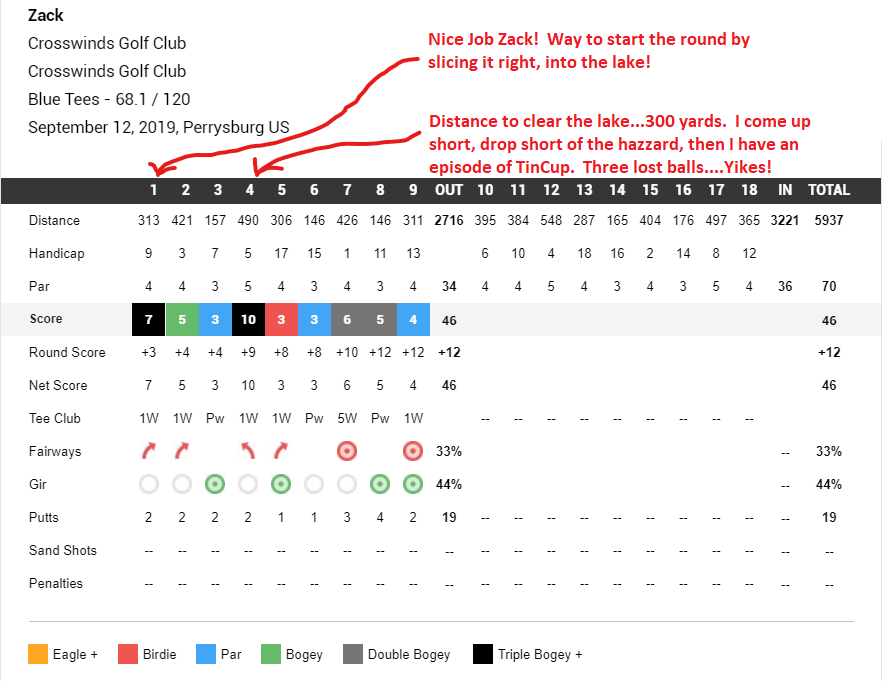 There are times in my head, I say, "play it smart", but still have to prove something to myself. I call it the TinCup scenario. I still have those times, as the scorecard above shows. I start the round with a slice to the right...right into the lake. The 25mph wind from the left didn't help things. So didn't start the round like I wanted. Then I have my TinCup episode and try to clear the lake with a 300 yard drive.....well it came up short. I drop short of the hazzard, then lose a couple more balls. It's stupid mistakes and just the inability to just lay it up short and play it smart. I'm a risk taker...I just have to try!
Hockey
A couple of years ago, my neighbor needed a substitute player for a hockey game at the local rink - he was a member of an 18 and older recreational league team in Findlay, Ohio. He knocked on the door and asked if I wanted to play (and that I had 15 minutes to decide). I said, I haven't ice skated since I was about 13 years old (and that was holding some girls hand skating in circles at a rink when I was a kid). I said sure, why not.
I can remember getting suited up for that game. I was exhausted and sweating just putting on all the equipment that he loaned me. It smelled and I was wondering what the heck I got myself into....I don't remember much other than that.
Fast forward a couple of years later and I'm still playing in the Findlay Men's Hockey League each fall and winter season. You can look up my stats there if you wish. I play on the Turner & Turner Dentistry Team. We are called the "Sewer Sharks". I mostly play defense (right wing) and on the occasional break away I usually choke, get the puck stripped away at the last second before a shot, or just plain miss the net. I've got several "assists", but rarely have the opportunity to score goals unless I "sneak up" and catch a rebound - it which I attempt to throw at the net....I stink pretty bad. But it's fun! That's all I can say, it's great exercise and a really fun team sport. I highly encourage anybody thinking about it to do it. You'll have a great time!
In March 2011, I retired from the sport. It was a short "career", but I just fell out of love with the whole 3 hour pre/post game travel and preparation - especially at 1:00am in a winter blizzard! What a pain! I also found, I'm just not built for the sport. A shoulder injury here, ankle injury there, etc, etc. We "Burns" come from a long line of non-sports affiliations! I've just come to accept it. I still love watching and "playing in the driveway", but I'm probably off the ice for good at least player-wise.
I still love watching the sport and an avid follower of the BGSU Falcons, Toledo Walleye and Pittsburgh Penguins and Columbus Blue Jackets.
You can see me in the same spot at BGSU Falcons games if you watch CCHA TV. I've got my spot! Or just sit with us.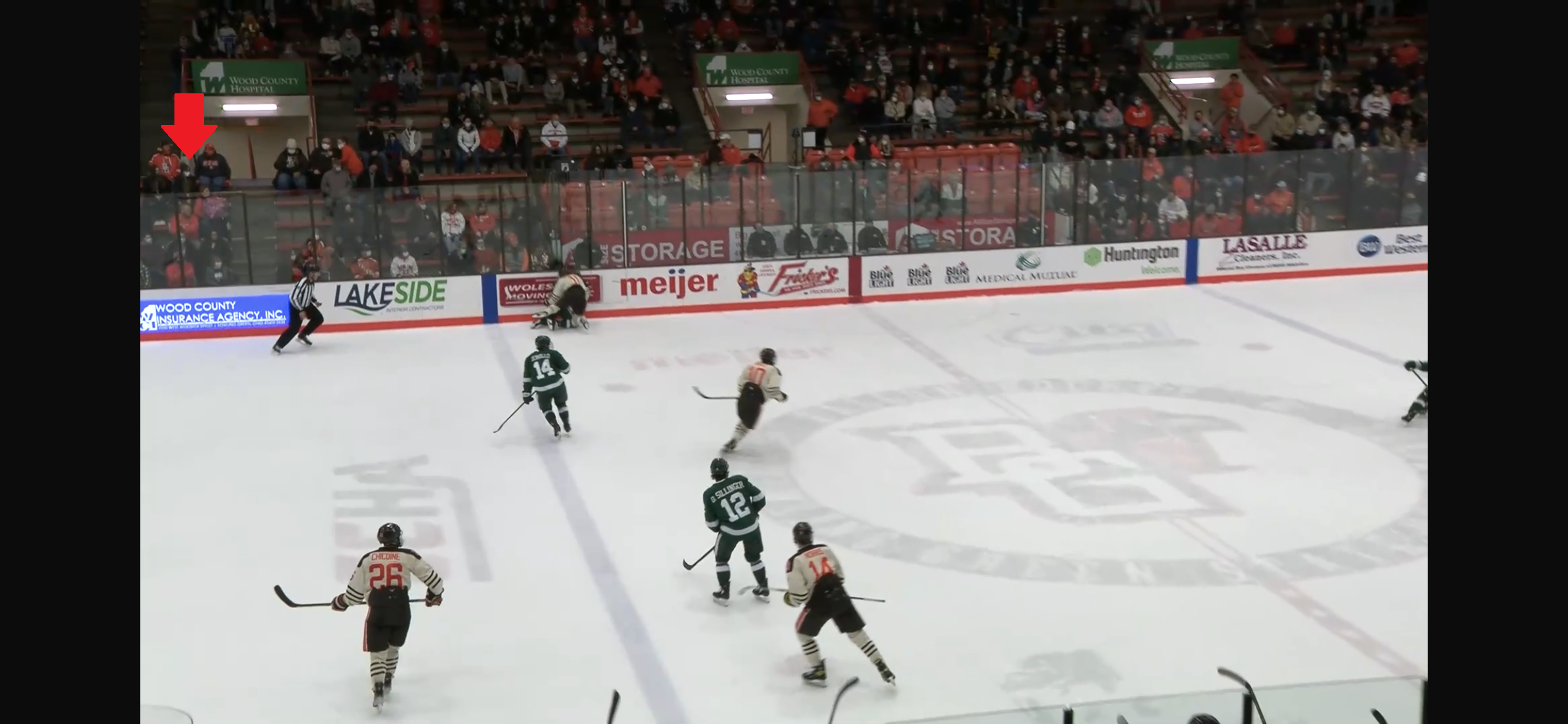 I think that's what I love about the college kids. They just don't stop playing. It's fun to heckle the opposing teams goalie and watch the occasional brawl. (At least in D1 Schools and the ECHL leagues. The NHL doesn't tolerate much fighting anymore as they like most other national sports have become weak!
I try to get to as may BGSU and Walleye hockey games as I can and here's a couple fun photos for you.

Skiing/Snowboarding
I started skiing when my Mom and Dad signed me up for some lessons that had been sponsored by the Cleveland Plain Dealer. I think my sister also did this a couple years later, but she just never enjoyed it. I think she just liked sitting around the fire in the lodge drinking hot chocolate and winking at the boys. I on the other hand wanted to conquer the slopes.....
Now Cleveland, Ohio is not known for their killer double black diamond slopes by any means, but for a 20 minute drive from my childhood home, you've got Boston Mills and Brandywine ski slopes. They have water slides in the summer, and skiing in the winter.
The slopes could give you quite the challenge especially since the majority of the snow was man-made, which we all know means crappy, icy, hard to learn skiing. I kept at it and eventually got a set if skis and then joined the high school ski club. That was fun and really helped me hone my skiing skills. I wasn't known for my jumps, tricks, moguls, etc, mostly I'd build jumps for the other guys I'd hang out with, but I was one speedy guy on skis. I preferred speed to jumping any day....oh and crossing over to the bunny slopes for checking out the girls!
Our high school would also take a trip to Peek 'n Peak and Holiday Valley for some skiing in our Junior and Senior years over a weekend and that made for some great fun and very little sleep. Unfortunately, I broke my left thumb and sprained my right thumb landing on my poles after an unsuccessful jump the first night on the Junior trip at Peek 'n Peak. I figured no big deal, and kept going all weekend, I just couldn't put my gloves on and had to have my buddies do it for me since my hands were all swollen. When I got back and got it x-ray'd it needed pins to put my left tumb back together.
Anyway, after moving out of the region, there's not much skiing in Northwest Ohio, so the hobby kind of died for me.
When my daughter reached 4 or so, Santa got her some skis and a snowboard and she's picking up the sport and we make a couple of runs up to Ann Arbor, Michigan to get our skis going before heading to Boyne Highlands each February for some great skiing. Having my daughter pick up the sport also gave me the opportunity to try snowboarding.
I tried snowboarding for the first time in New York at Lake Placid (home of the 1980 Olympics) and spent most of the learning process on my butt and knees (I was determined to do it myself without coaching or lessons)....I eventually gave up and spent the rest of that trip on skis. In 2006, I gave it a try again at Boyne, didn't think about the process, but let my body teach my board what I wanted it to do. It's kind of weird to describe it, but you know when you've got it. It just clicks. Ever since that day, it's like riding a bike...and I prefer it to skiing, but after a nasty fall or two it makes you want to get back on your skis. I figure I'll get back on my skis someday once my body says enough is enough!
Other Sports
Other than those sports, I'll play pretty much anything and try to expose a bunch of sports to my daughter as I think it's a good skill to learn about strategy, competition, team building skills, etc. I think it's a necessity in the real world to learn how to achieve a common goal and work hard to accomplish that goal. It also helps teach humility and that defeat can make you better by learning from your mistakes.