Lake House Remodel Pics and Notes
Why document all this? Well, mostly for historical and future reference. I usually try to future proof things. So I may put an electrical box in a ceiling for a fan, but not install the fan. I still wire everything up and may need to know where the wires run, the fan mount is, etc. Plus it's fun to remember all the pain and suffering that goes into the process! :-)
Some preliminary notes...the house was not in bad shape. It has a good skeleton, but was just neglected. During the home inspection, we attempted to gauge the age of the house. It was determined that it had to be from the 1930's or 1940's. So that makes it almost a 100 year old house. That was determined from the knob and tube wiring. The more digging I do, I'm finding (based on the materials used) that it went through several renovations. For example... 1 - Initial Build (circa 1930-1940 at the latest) 2 - Knob and Tube Wiring Added (circa 1940-1950 - no interior walls, just exterior cedar siding) 3 - Some romex wiring added (circa 1960-1970) 4 - Upson Board/Beaver Board Added for interior walls and spliced-in wiring (circa 1960-1970) 5 - Upstairs Open Area Attic Converted to Living Space (unknown) 6 - It looks like there were some walls and ceilings added around 1994 upstairs
The roof probably could have waited another year or so in my opinion, but the windows definately needed replaced. They were old weight-driven single pane windows. Horrible at keeping out the drafts. Oh, yeah....this house did not have one ounce of insulation. Not one bit! Upgrading the roof, windows, gutters, electrical wiring, and adding insulation and drywall was tops on my list. I wanted to bring all this up to code and basically gut the entire place and make it feel like home.
Note that I'm just throwing up pictures here, not editing them, etc. This is all for my historical or future reference. Deal with it! :-)
Right after taking posession, the locks were changed and the drop ceiling in the main family room was sagging pretty bad. I just started taking it down - literally minutes after owning it. It had to go.
Even doing something as simple as that you find some strange things (like a dead bird).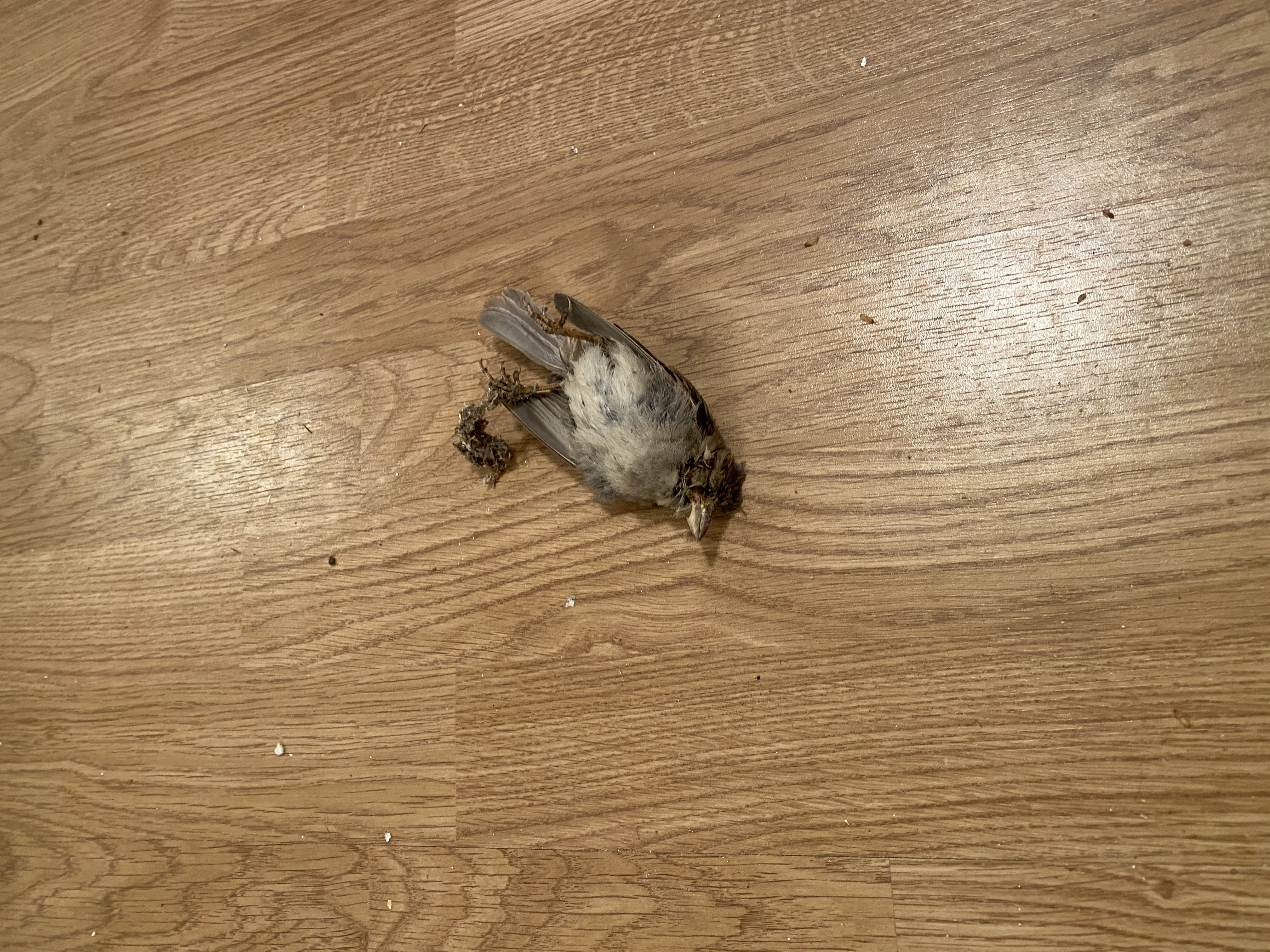 Tons of crap came out of the house the lady didn't want and couldn't move. So I negotiated a dumpster during closing.
Next, I figured I'd start upstairs and work my way down. At least if I got one room done, I could start sleeping and working in the place. I'd basically work myself tired so I could sleep each night. Too many thoughts of everything that needs to be done.
Looks like they put up walls, and painted them - destroying the top layer of the wood floors. They look to be pine floors...they may sand up well. I'm going to try that first before I contemplate carpet, etc. I'm just not sure what the final floor is going to look like. It's pretty cheap to rent a floor sander and try it. Cross your fingers!
Another indication of a very old house. The old wood burning stove plate flue cover, etc that existed in the middle of the first floor.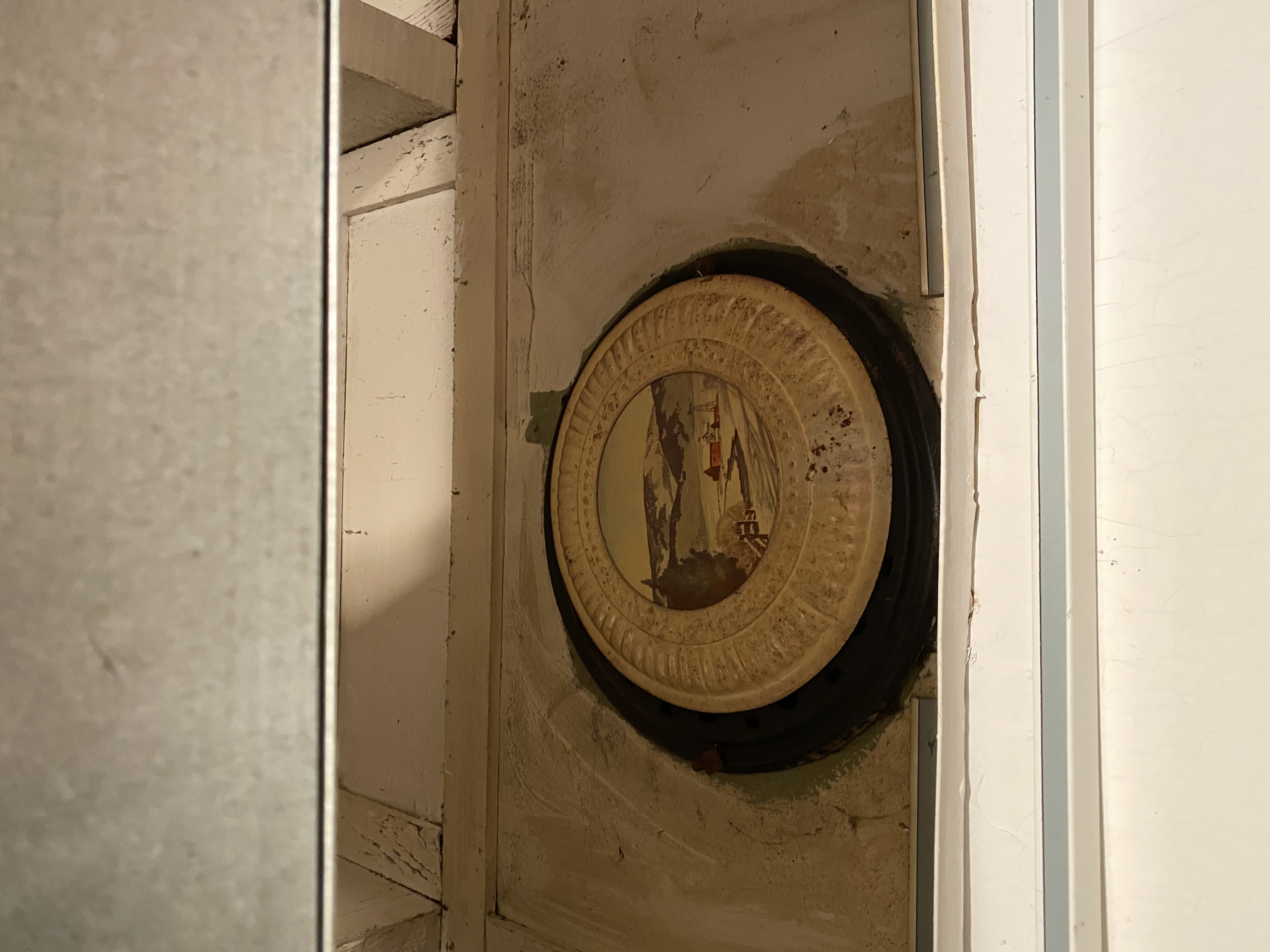 Time to start looking into the walls - I knew what I was going to find. Probably some timber framed walls, no insulation, and questionable wiring. My goal was primarily for safety (electrical), upgradability, and heating/cooling savings. So I filed a permit with Luna Pier's building department. That's a pain in of itself. I forget what dealing with a small town can be like. (Open at 10:00am, Closed for Lunch from 11:00am until 2:00pm and Closed for the day at 4:00pm). Hah! Oh, boy - can small towns talk also!
I thought this might be Beaver Board. I just didn't understand why they had holes marked out on the walls.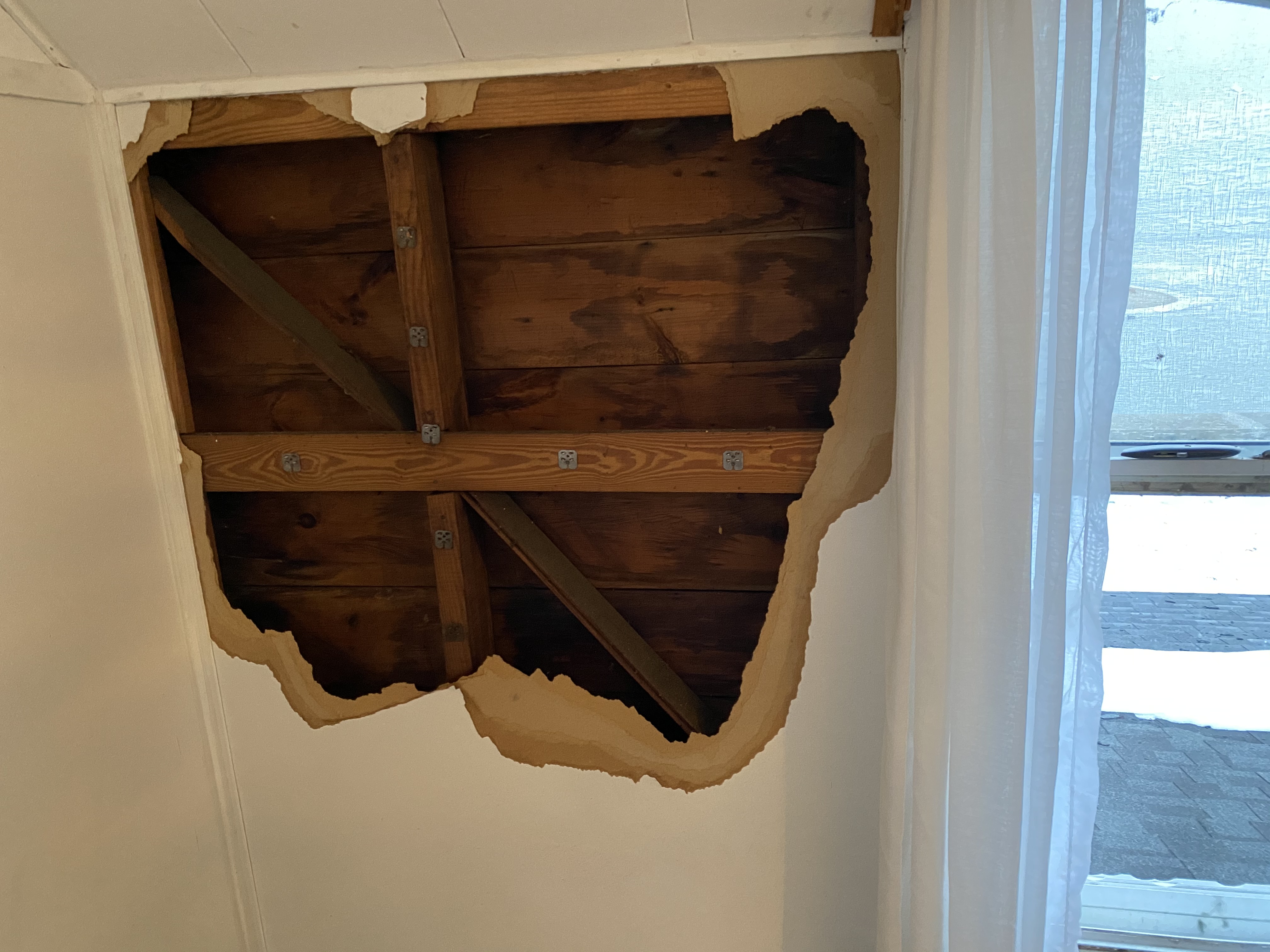 There was no insulation or electrical work done behind any of these markings. Just plain weird to me.
Looks like the walls are going to be a project.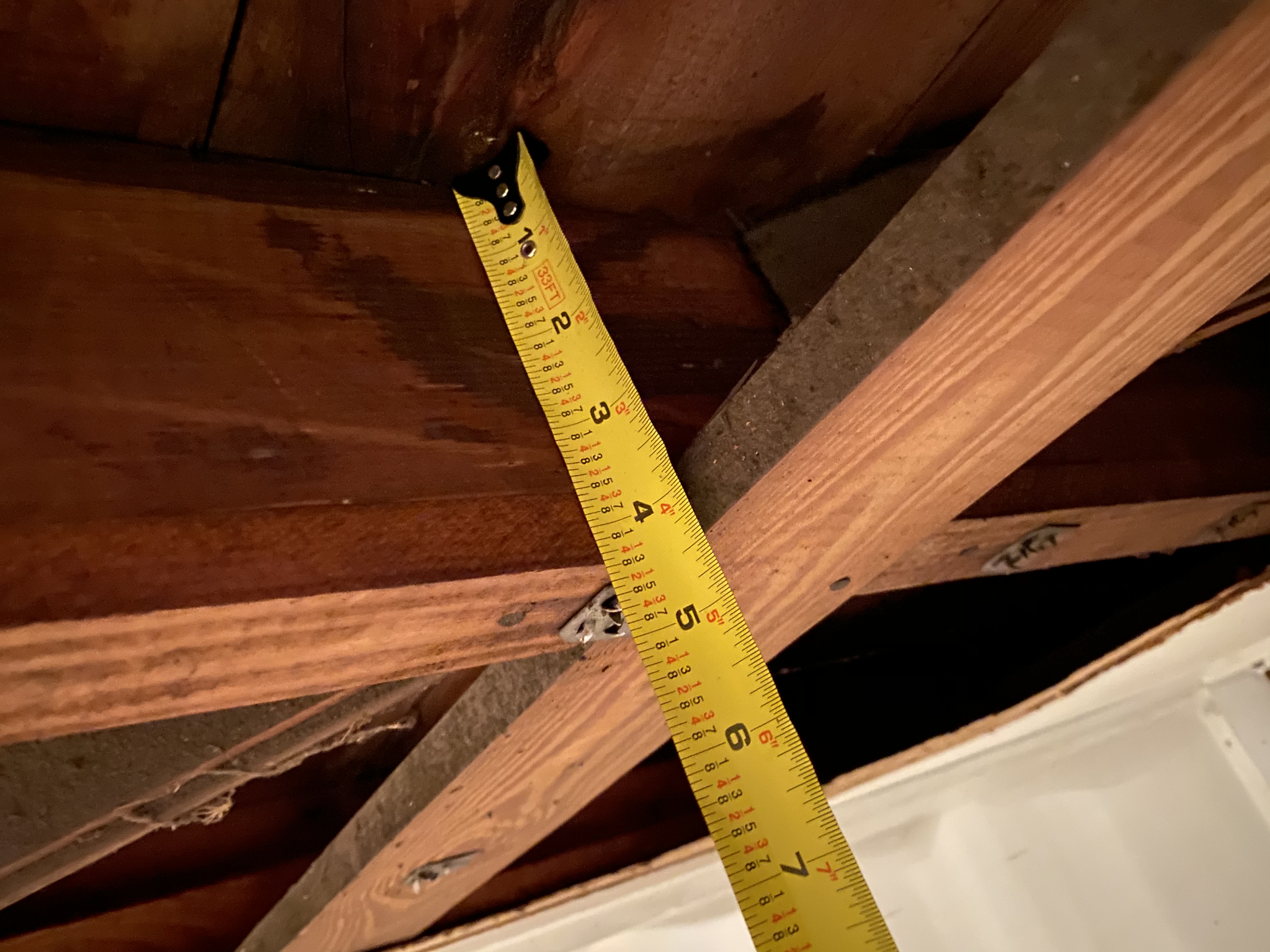 Took me about 2 hours per room to take back to studs. Not bad...the only thing that freaked me out was the nests.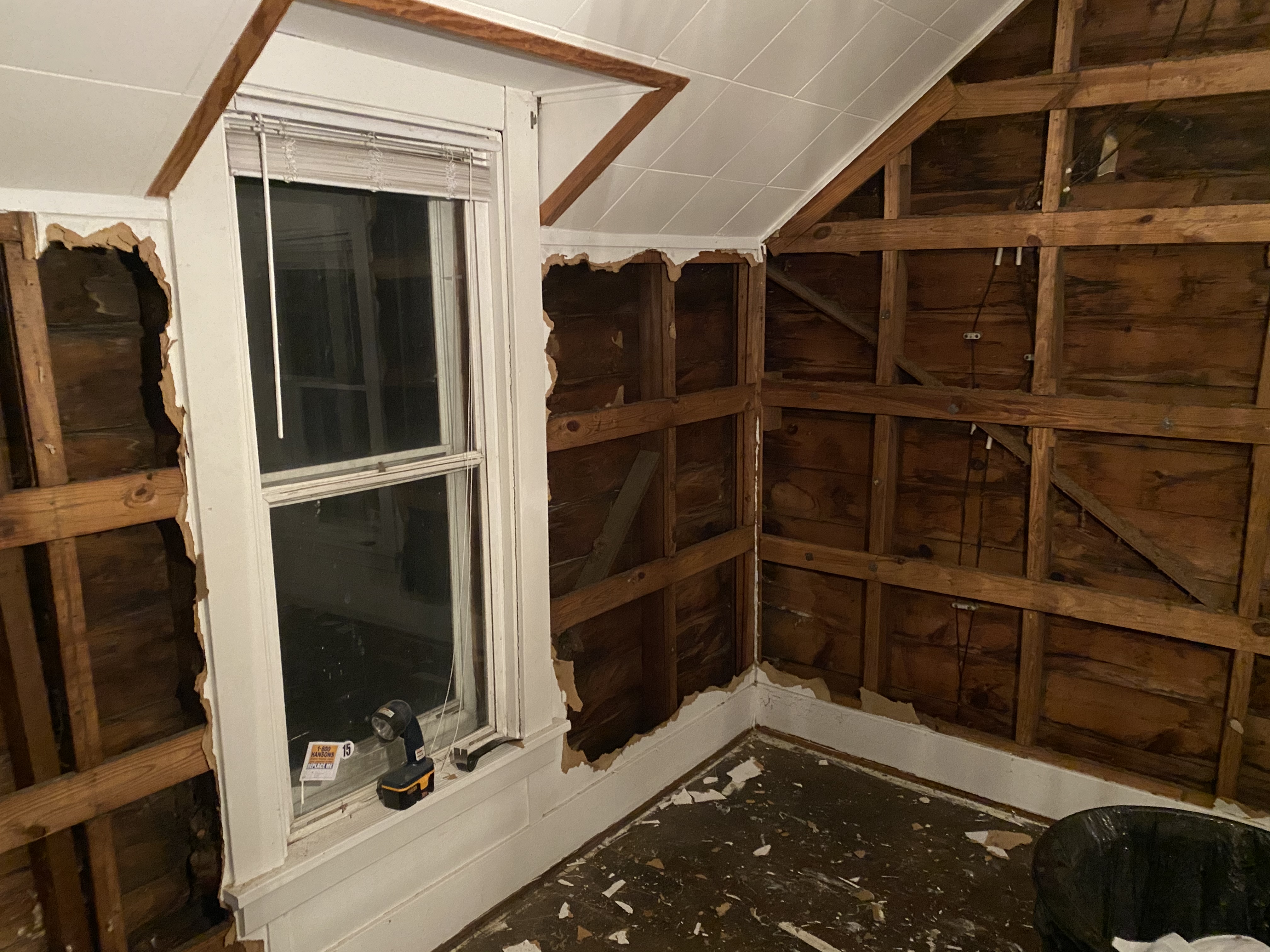 These are Mud Dauber nests. They are actually a beneficial type of bee. They will not bother you, even if you bother the nests. Basically, they take mud, build a nest around a spider they catch, lay eggs, hatch then fly away and repeat the process. Obviously, there was a place they were getting in the attic!
It was purely amazing. This could have literally been almost 100 years of nests! The house was almost never used. I'll bet those walls were literally buzzing!
This was the only readable label I could find to prove the walls were Upson board.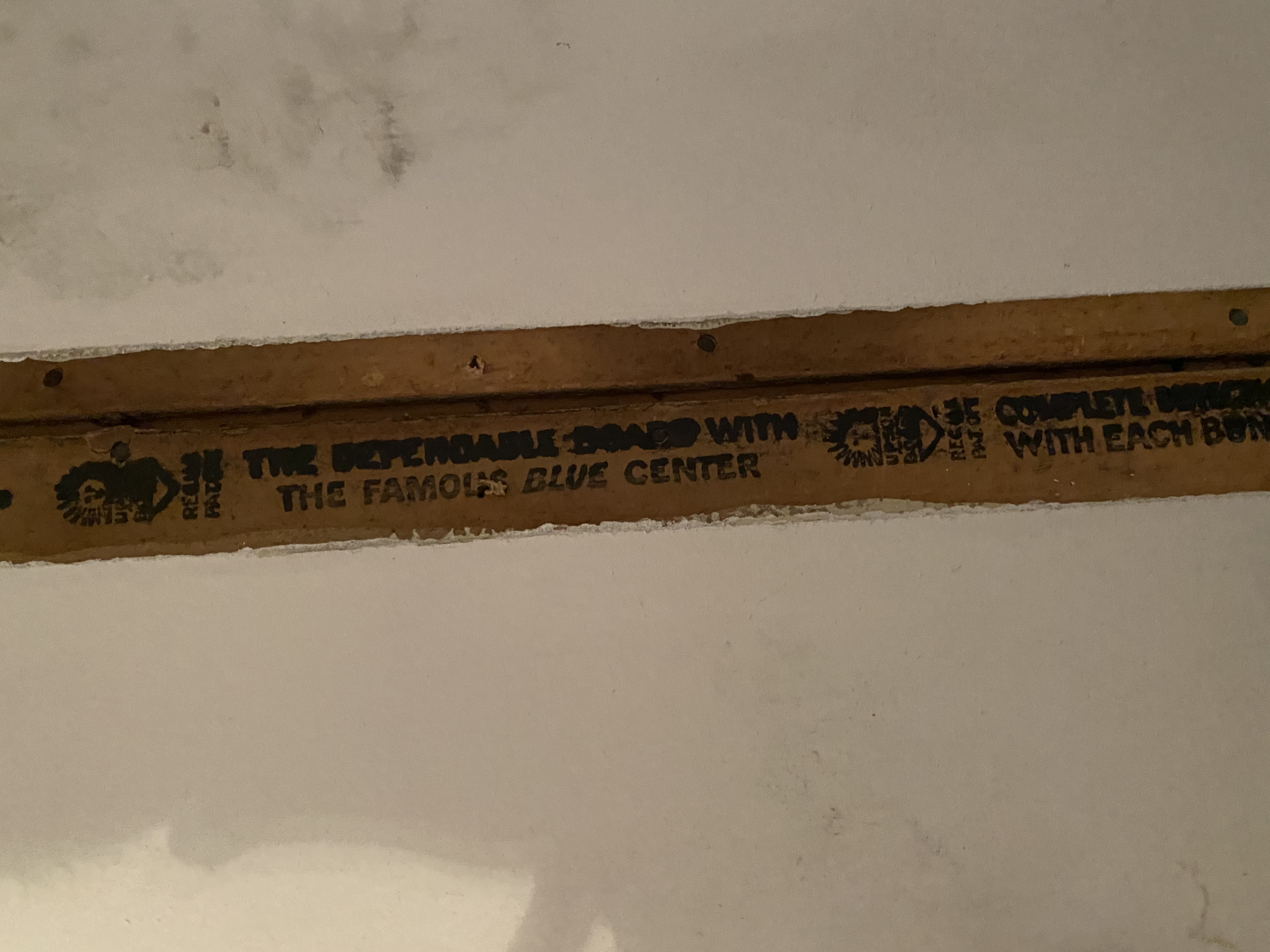 Roof materials delivered. That was quick!
The roofers had it done in 2 working days. In the middle of February in Michingan. (The crew was from Minnesota - so they didn't mind the snow!)
Found out that the sunroom was probably a screened in porch. Windows added later and the family room bookcase used to be a window facing the lake. Removing that lets lots of light in and a view of the lake from almost every room!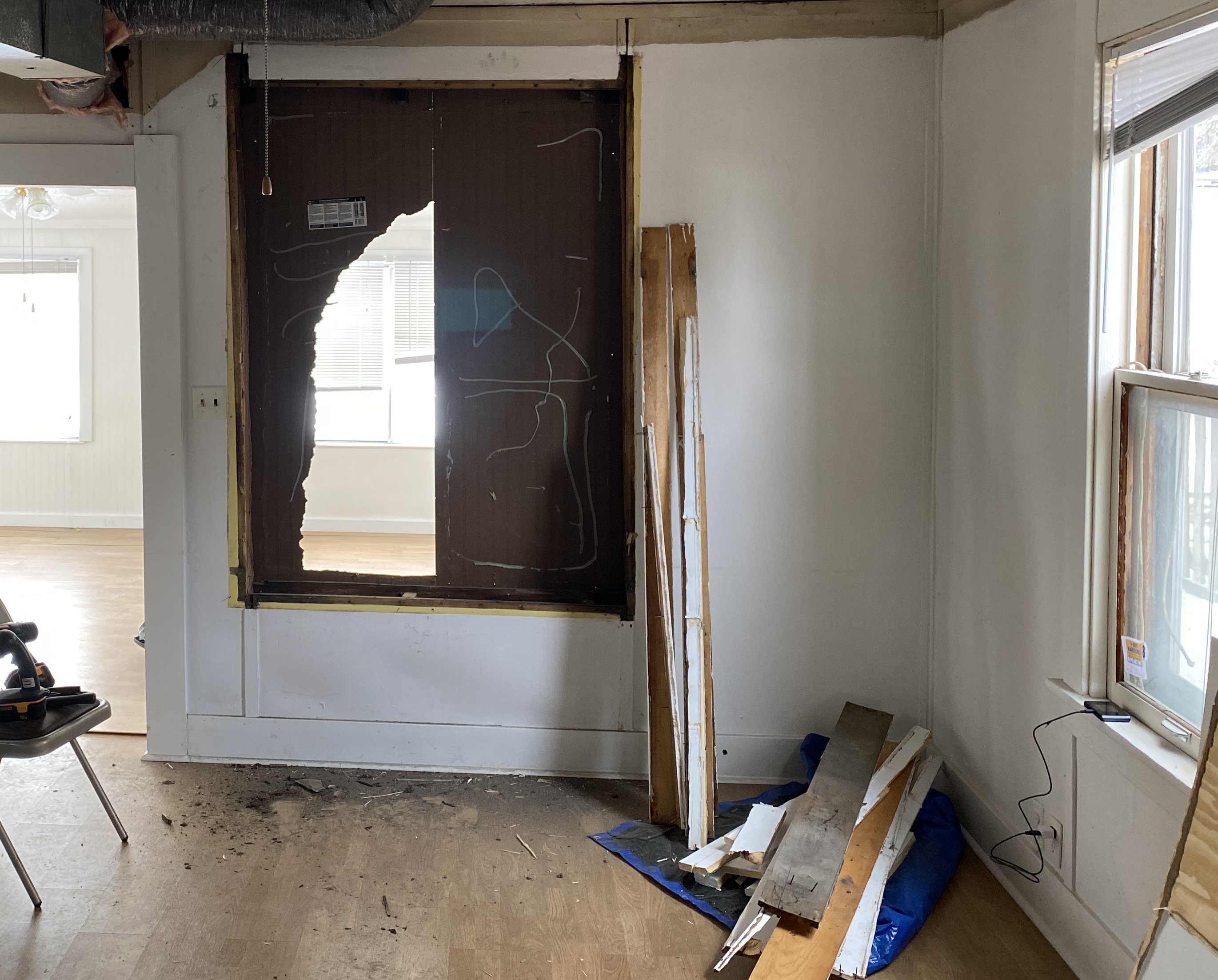 Another indicator of age/remodel. This was typical in the 1950's. Probably when they decided to think about adding the upstairs steps.
When, I'm stressed, I head to the sunroom and watch the ducks or waves crashing toward the shore.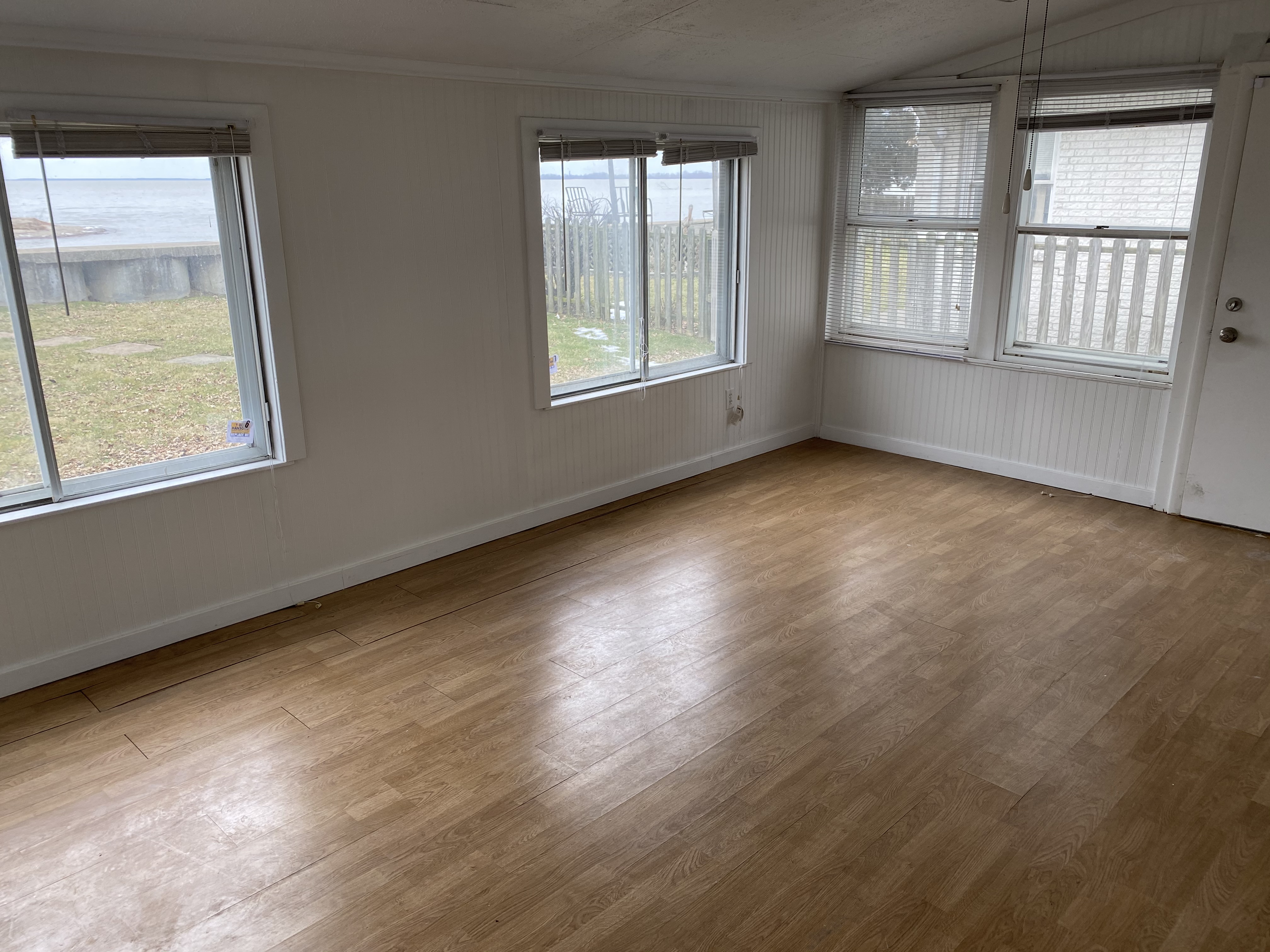 Eventually, the backyard will house a summer garden, deck, floating dock, etc. It's gonna take some time.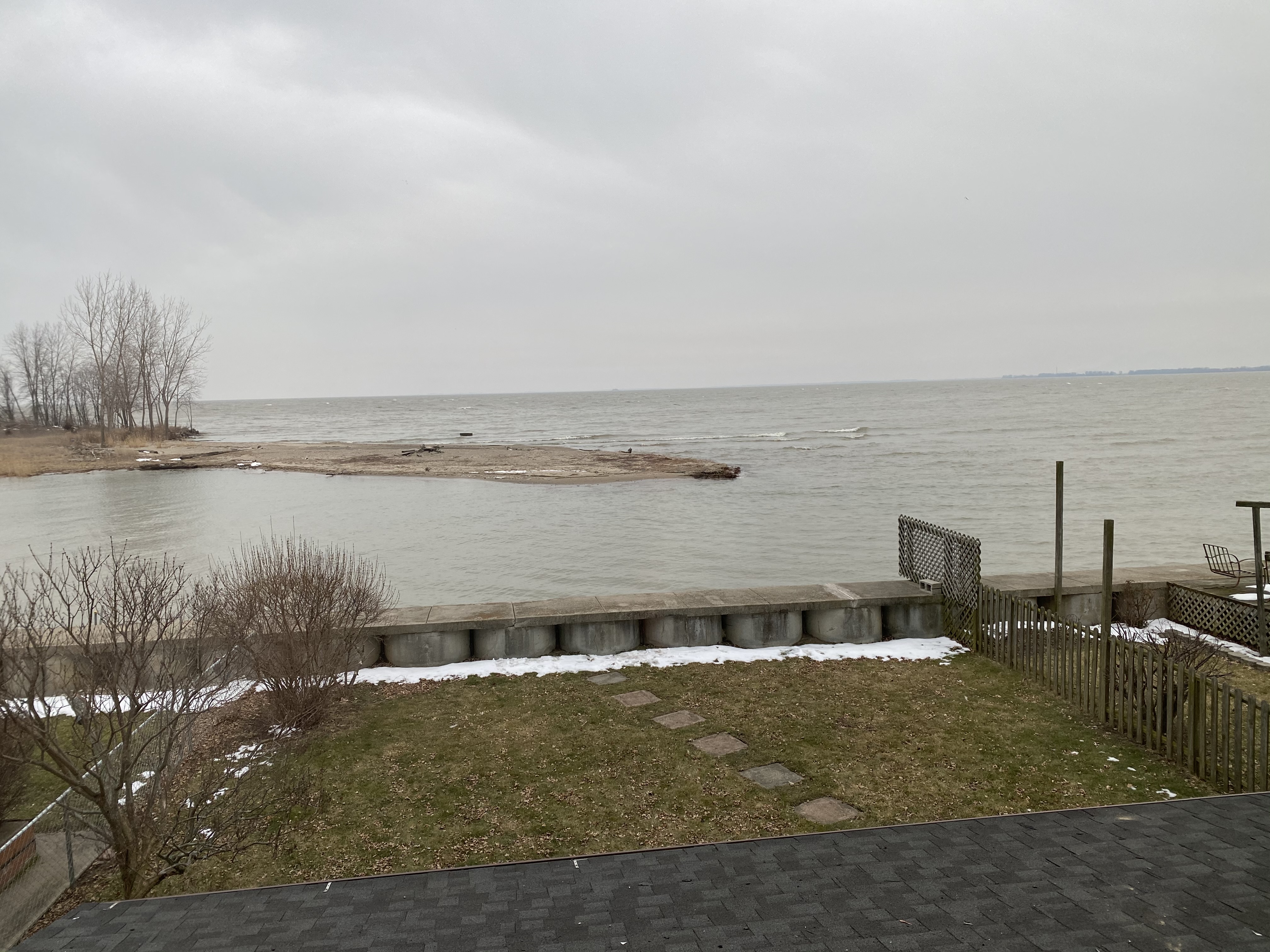 New windows were installed mid-February also. They look great!
It will take some new mouldings to handle the fact that these were replacement windows and not new construction type. Now that the exterior is handled (roofs, gutters and windows), I can begin the process of insulation and electrical wiring. I'm hoping to have the final inspection complete by the end of February and start drywalling in March.
Happy, I'm finally almost done with gutting the place and I can start making forward progress!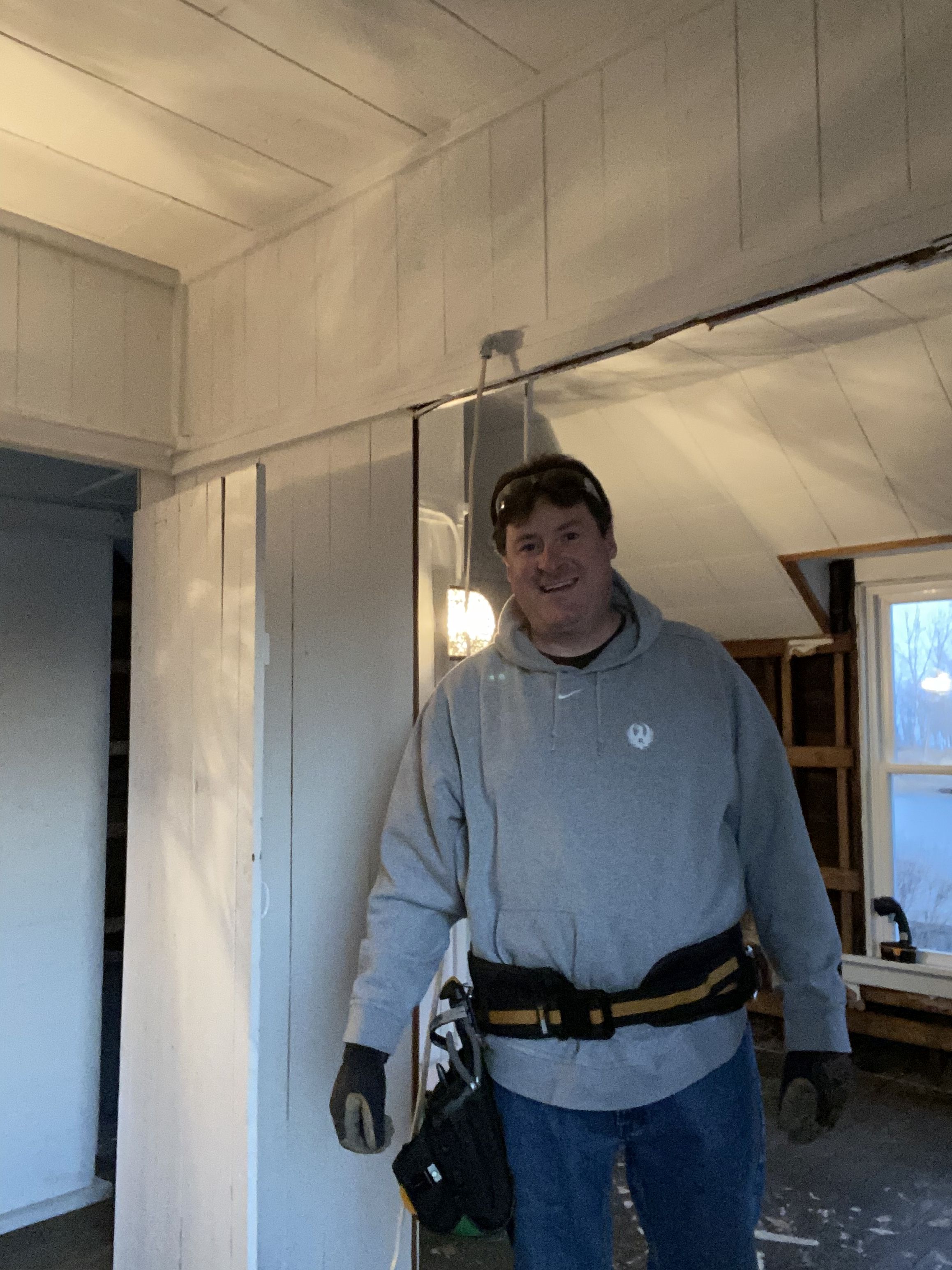 Another nest. Probably a different bird! Wow! Just plain crazy!
Here's what the master bedroom will look like space-wise. It's still small, but should suffice, after all, the action is "at the lake" and in-town at the bars! Luna Pier is a nice little small town (about 1500 people). It's a golf cart friendly community and they have a heck of a July 4 party. That'll be summer highlight for sure!
Working on the second bedroom. Here I removed some small copper piping that ran across the bedroom wall (between what used to be the attic and the downstairs kitchen). I'm not sure why this was never removed...it still had some old fuel oil in it too. I was done for the night after doing that as I was getting high. Hey moron, how about opening one of those new windows for some air flow? :-)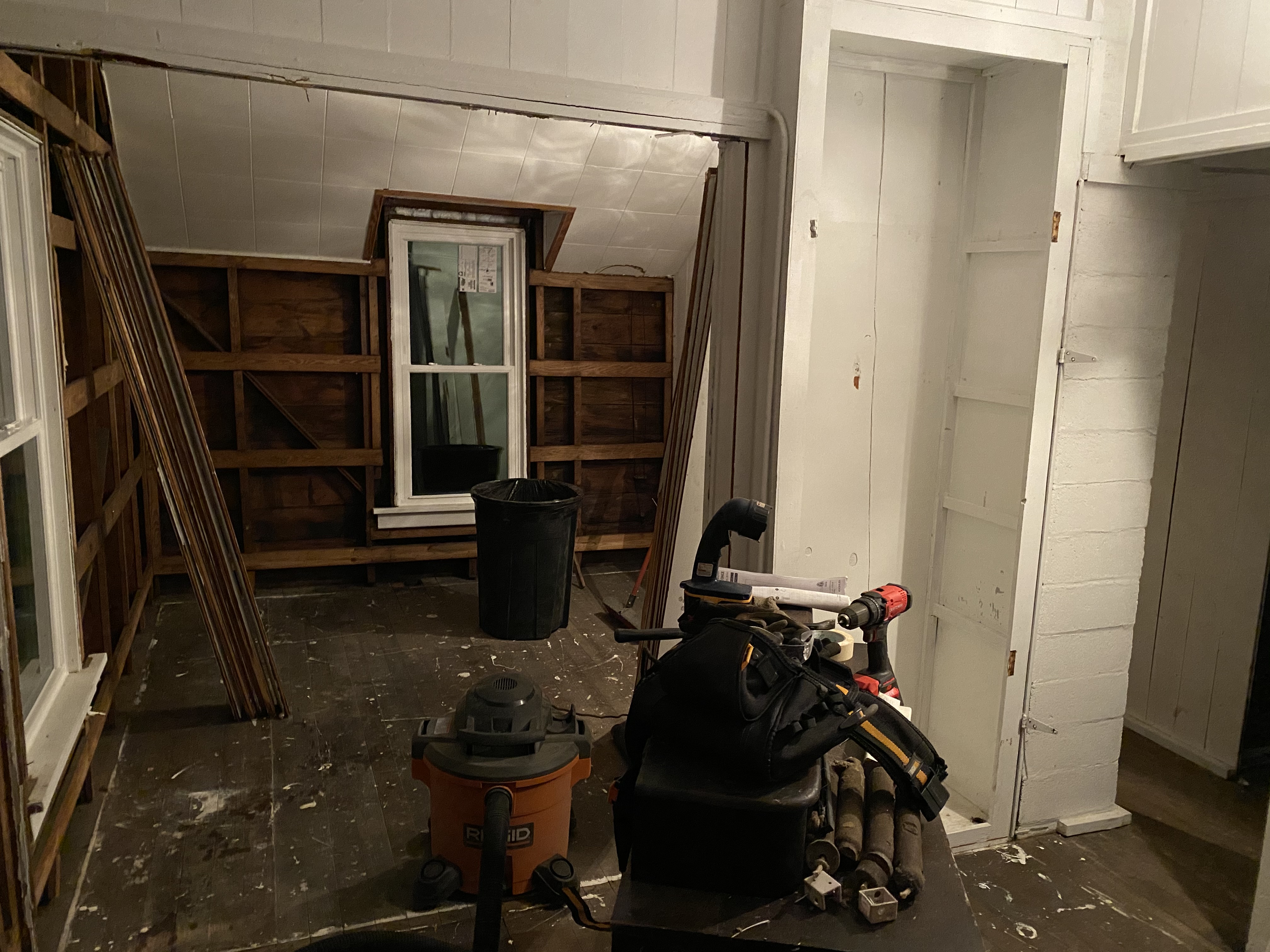 I also uncovered a board that said "Cowell Willow Cottage Toledo Beach" while doing demo. That was very interesting. I did some historical research. I'm not sure of the "Cowell" part, my guess it was an owner of the cottage at the time. But the Toledo Beach area contained a huge amusement park that existed just before the Great Depression. It had a roller coaster, large bath house, dance hall, and gambling/casino area. It was supposedly in existance until after World War II after a girl was killed falling off the roller coaster. It's kind of neat - was this board from an old cottage there? Was this house I'm remodeling the actual cottage? Who knows. Interesting indeed. I still haven't found any treasure though. :-)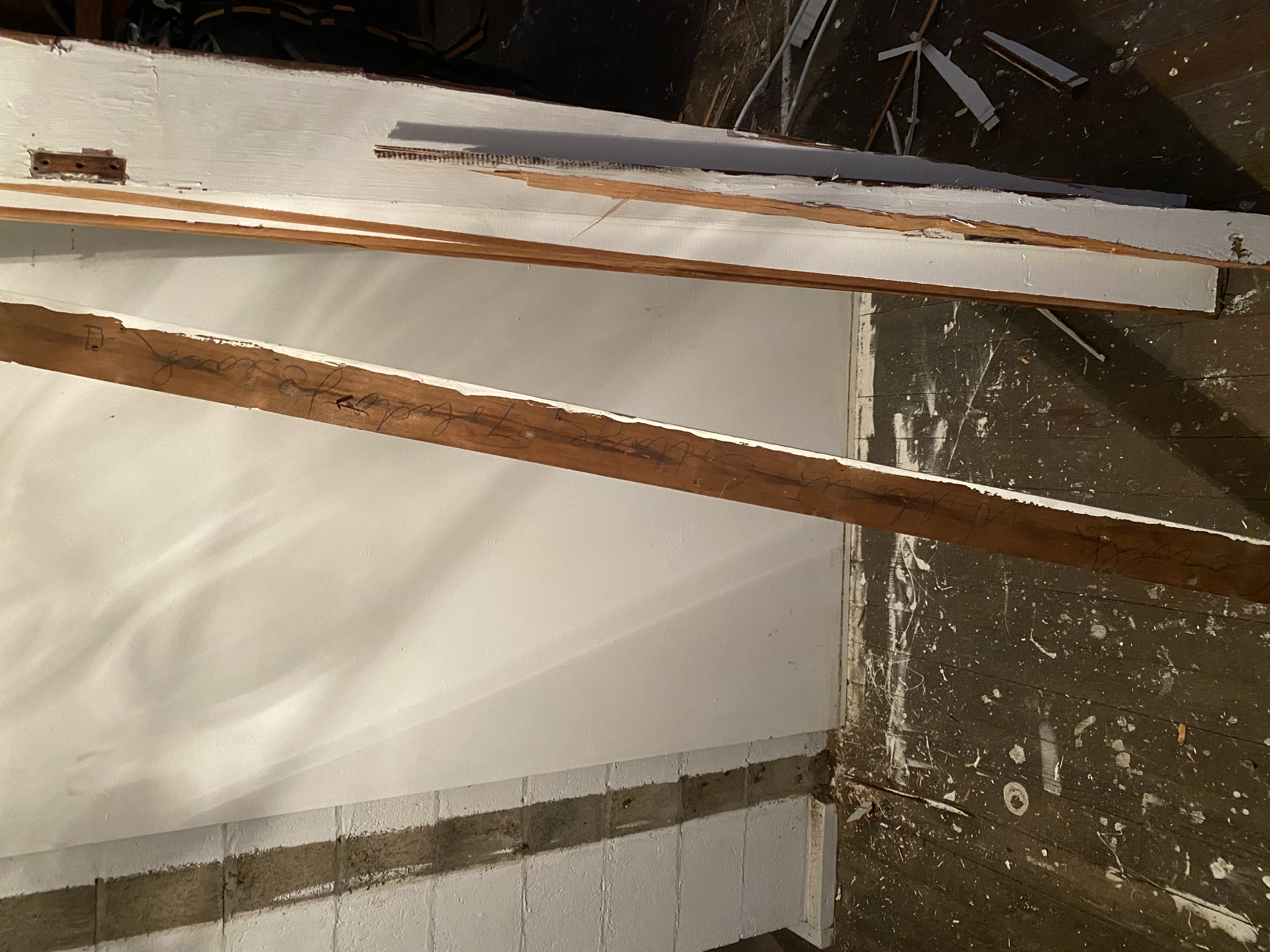 Written on the wall - looks like this goes back to circa 1919. Neat!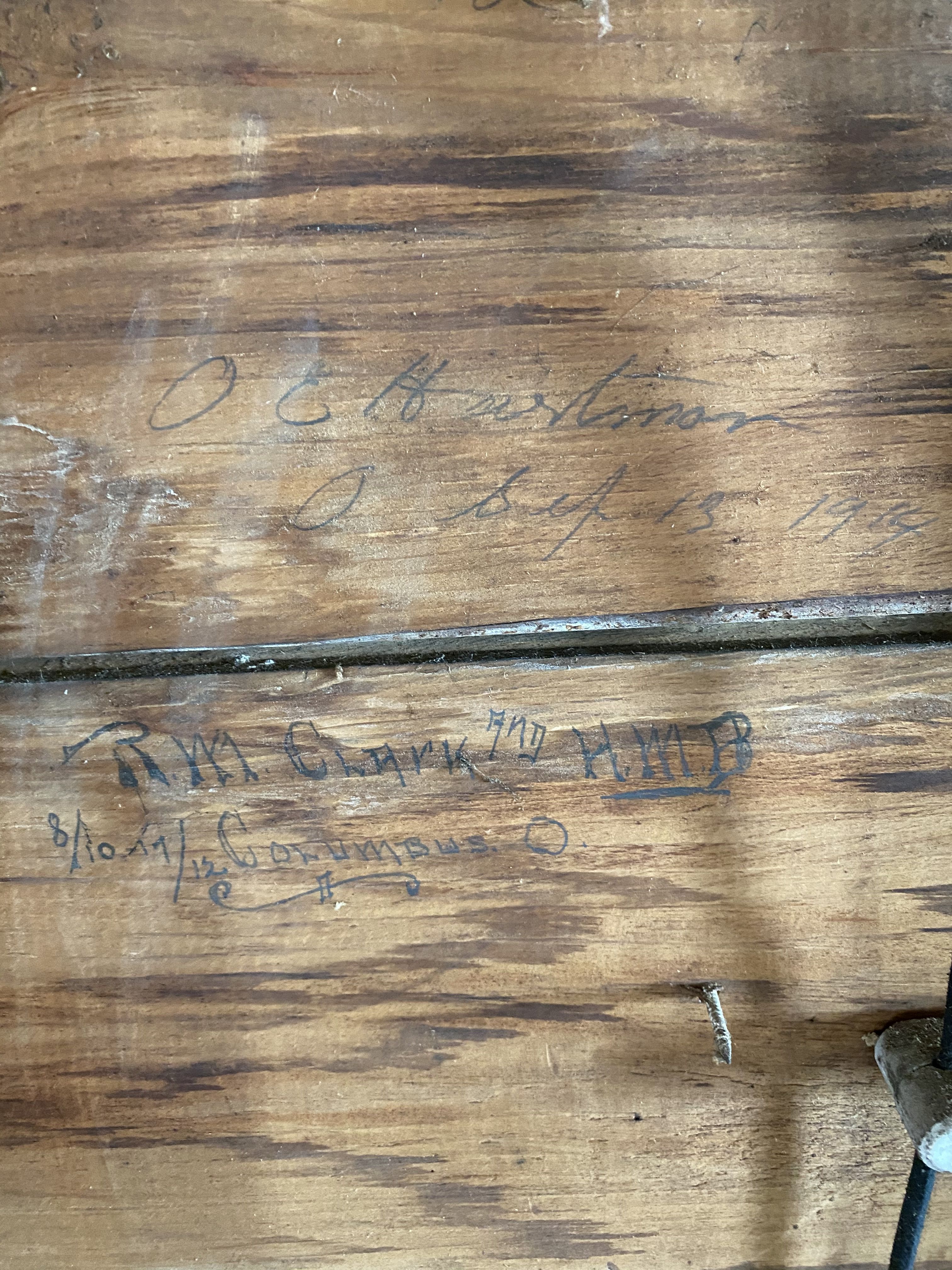 The old Toledo Mercury Hockey team in a Blade newspaper from the attic.
You can see the date of March 3, 1948. Before my dad was even born!